Warm greetings friend. Just as we moved into our northern California home, life as we know it took a 180 degree turn. Like you, we shelter in place until the time comes to reemerge. The arrival of covid19 has changed everything as we know it. Individually and collectively, we hold uncertainty as to how this transition into birthing new patterns will unfold. This instability is filled with many emotions... curiosity, despair, wonder, anger, hope, grief, fear, Love.
May we honor ALL our feelings as they arise with tender acceptance and compassion.
My online shop is now up and running!
After 26 years in business, I have decided to slowly bring the ARTGIFT
branch of New Moon Visions to a close. This transition will likely be over several years.

Most of my ARTGIFTS are now offered at very low prices.
All orders recieve the following FREE GIFTS of appreciation (or more)!

11 assorted cards - 3 chakra posters - 22 bookmarks
new moon visions shop > CHAKRA Artgifts > 2nd Belly Chakra ~ I Feel
2nd Belly Chakra ~ I Feel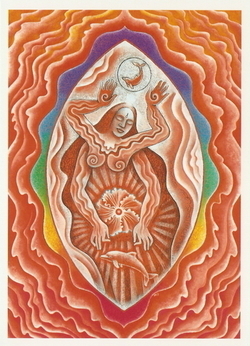 liquid orange pleasure glows warm within our womb
feelings flow in rhythm with the everchanging moon
let go, open, fluid motion, dive in, dance and play!
may we swim in the sweet ocean of grace each and every day
poem & painting ©2002 Mara Berendt Friedman

see artgifts below...