Dear Friends, I am in the process of relocating to Northern California and am putting my on-line store on hold
starting April 11th through the end of August 2019.
The one artgift available for sale during that time is our Rainbow Warrior Awaken! Deck.
Also, original paintings in my gallery (that are not already sold) remain available for purchase. Please contact me with any questions you may have - stream@newmoonvisions.com
Feel free to visit my site and email me during that time. Our on-line shop re-opens September 1st!
With deep appreciation for your support of my work over all these years.... warmly, Mara
new moon visions shop > Fine GICEE Prints > Custom Giclee Prints
Custom Giclee Prints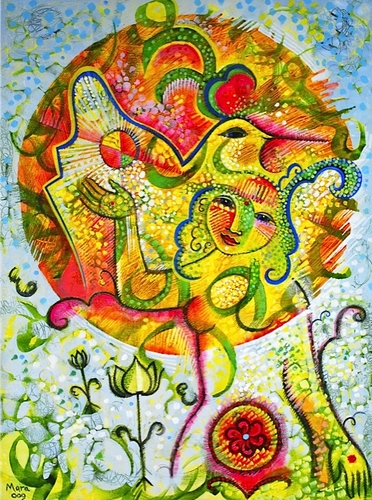 CUSTOM GICLEE PRINTS
Our archival quality giclee prints are produced on a state-of-the-art Epson printer using Ultrachrome pigmented ink.
Giclee prints are available on both acid-free canvas and fine art paper.
Canvas giclee's have a protective UV coating, come mounted on a stiff backing and are ready to frame.
Most all of the original paintings in our Gallery are available to order as a giclee print.
Our giclee prints come in a variety of sizes. ~ For pricing estimates, standard sizes are listed below.

For the image of your choice and/or for larger sizes ~ please
contact me
for availability and price quote.

For your 'made to order' giclee print, please allow 3 weeks for delivery (in the US).

Your giclee print can be embellished (painted) by the artist for an additional charge, starting at $100.
Giclee Price List (updated 12/1/2016)
12x12 ~ $ 99 plus shipping*
11x14 ~ $ 99 plus shipping*
14x14 ~ $122 plus shipping*
14x18 ~ $122 plus shipping*
16x20 ~ $155 plus shipping*
18x18 ~ $155 plus shipping*
20x20 ~ $195 plus shipping*
22x22 ~ $195 plus shipping*
18x24 ~ $255 plus shipping*
24x24 ~ $255 plus shipping*
* actual shipping charges apply ~ please contact me for overseas shipping quotes