Dear Friends, I am in the process of relocating to Northern California and am putting my on-line store on hold
starting April 11th through the end of August 2019.
The one artgift available for sale during that time is our Rainbow Warrior Awaken! Deck.
Also, original paintings in my gallery (that are not already sold) remain available for purchase. Please contact me with any questions you may have - stream@newmoonvisions.com
Feel free to visit my site and email me during that time. Our on-line shop re-opens September 1st!
With deep appreciation for your support of my work over all these years.... warmly, Mara
new moon visions shop > CHAKRA Rainbow Artgifts > 3rd Power Chakra ~ I Act
3rd Power Chakra ~ I Act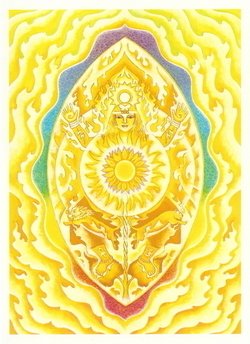 shine our golden light resplendent as the Sun
from our power center connect to the One
fearless freedom is the gift of our inner fire
with joy and integrity we will guide and inspire

poem & painting ©2002 Mara Berendt Friedman
see artgifts below...