October 2023 ~ Dear friends, I think (hope!) that the shopping cart has been fixed. If you have trouble placing your order, please email or call me (541-844-9172)
and I will be happy to assist you. warmly, Mara
New Moon Visions was founded in 1994, almost 3 decades ago.
I am deeply grateful to be able to offer my visions thru paintings, prints and other artgifts.
Thank you from my heart for your support of my artwork over all these years. mara
Private Sessions & Mini Playshops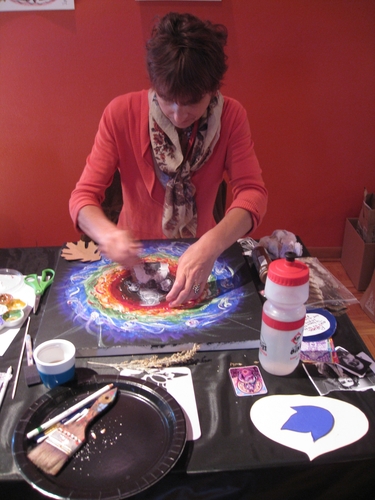 Treat yourself to a

Sacred Art Playshop

with Mara.
Feed your soul the sweet nectar of Beauty.
In the peaceful space of my seaside studio, we will dream into your vision ~ intention.
I will help you unfold a mixed-media work of heART that expresses and empowers your wisdom and beauty. AbSOULutely no art experience needed.
Everyone enjoys the magic of creating art ~ ages 8 to 108!
A wonderful way to celebrate special occasions ~ births, birthdays, weddings, transitions.

Tuition includes all art supplies ~ canvas, paint, beads, stones & more.
Learn these art techniques ~ mandala, dot, glaze, texture, stencil & more.
Tea and treats provided.
Private Playshop (4 to 5 hours) 1 participant ~ $180
Bring a friend! (5 hours) 2 participants ~ $140 each

Contact me for more information ~ 541-844-9172
My studio is located in Big Lagoon, by the ocean at the northern tip of California.
(10 minutes north of Trinidad & 25 minutes south of Prairie Creek Redwoods.)
Mara has been making paintings that celebrate the Feminine Aspect of Spirit for three decades. In 1999 she and her sister Karen co-founded STREAM (Soulís Together Rejoicing in Expressive Art and Magic), a sacred art school dedicated to the nurturance of true self expression.