Warm greetings friend. The arrival of covid19 has changed everything as we know it.
Individually and collectively, we hold great uncertainty as to how this transition into birthing new patterns will unfold.
May we honor ALL our feelings as they arise with tender acceptance and compassion.
New Moon Visions SHOP
After 26 years in business, I have decided to slowly bring the ARTGIFT branch of New Moon Visions to a close.
This transition will be over several years. With this in mind... many of my artgifts are now offered at very low prices.
All orders receive FREE gifts of appreciation!
about my art school STREAM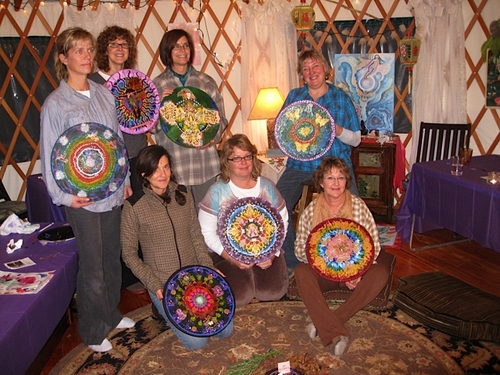 Souls Together Rejoicing in Expressive Arts and Magic
STREAM is a sacred creative art school dedicated to the nurturance of authentic self expression and the Rainbow Way of Beauty.
STREAM was birthed on the Spring Equinox in 1999. My sister Karen Russo and myself began meeting with a wondrous group of young girls in my studio in the country. Many magical years followed in which we met one full day each month to create, to play and to share our joyful spirits. For many years I opened the doors of STREAM to the larger community of women in Eugene, Oregon. We created in a wonderful studio that overflowed with inspiration. Deep and sacred moments were shared as magnificent mandalas were birthed thru women who flowed within the river of their inner visions.
All classes are guided by Mara Berendt Friedman.
abSOULutely no art experience ever needed!
LEARN these art techniques and more ~
acrylic painting, dotting, texturing, stenciling, drawing, collage
MATERIALS include ~ paint, canvas, beads, paper, feathers, more...
EXPERIENCE ~ intuitive tribal art; mixed media painting; sacred mandala, symbols and icon; ceremony, song and drum; the warmth of community