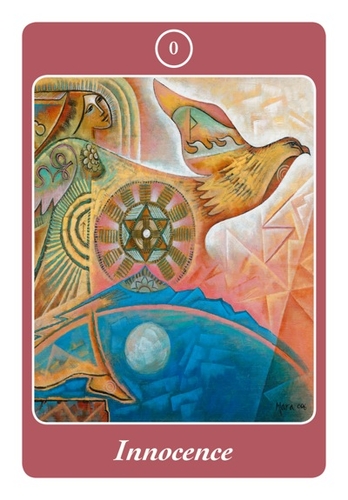 We have heard from many happy customers since we first published Rainbow Warrior Awaken! Your Journey of Guidance and Healing in November of 2010. Here are just a few examples of what our customers have said about RWA!
"Rainbow Warrior Awaken! is alchemic love juice in a box."
-April Bolding, Seattle WA
• • • • • • • • • • •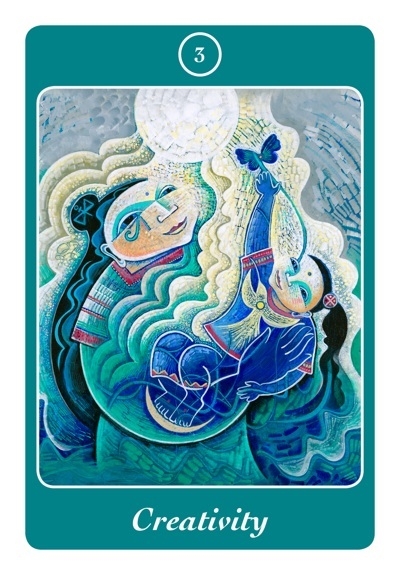 The cards are just gorgeous and so well made. They have a wonderful feel in one's hands.
I tried my first reading with them a couple weeks ago with an important question about the direction of my work with girls and women. I enjoyed learning the system and selecting some special cloths to use for the spread and to wrap the deck and book in. And setting my intention. ...And wow, I received really great insights that are still potent for me. Thank you!
I do feel that there is something very special about this deck for our time, and that I am lucky to have caught the wave. May we find the path together.
Love, Katharine of
Journey Of Young Women
Connect with Katharine on Facebook
• • • • • • • • • •

I love your deck sooo much!!! I was drawn to Mara's art for a while and I have one of her magnets on my fridge! I was drawn to the RWA deck instantly when I saw it in New Renaissance in Portland Oregon!!! I love the art and the messages are profoundly healing. They feel in tune with personal and planetary evolution. When I first opened the RWA deck I actually heard drum beats. I felt like ancient ancestors were with me!!! Thank you for creating this magical deck! My favorite card is Service 444! Love and Light. Andrea Dombecki, Portland, OR
• • • • • • • • • • •
"The Rainbow Warrior Awaken Cards and guide simply changed my life. I started using them during a time of great transition. The wisdom within them, guided me gently, yet with great spiritual force. I am forever grateful to know Trinity and Mara - and to use their magnificent creation -
one that is a brilliant conduit between the earth and the sky plane."
-Nancy Mills, Los Angeles, Founder, The Spirited Woman
• • • • • • • • • • •

"LOVE the deck! I have them with me here in Australia. Shared both privately and publicly
with HOSTS of amazing comments!"
-Saida Desilets, Author of Emergence of the Sensual Woman and creator of the Desilets Method
• • • • • • • • • • • •
"Hi Trinity and Mara,
I have had the opportunity now to work with your beautiful cards and all I can say is THANK YOU! They are beautiful and powerful-I love that you included the chakras and the directions. This is an amazing deck and I will be promoting it here in Arizona for you. Big hugs and Sunshine!"
-Katherine Metcalf, The Conscious Community
• • • • • • • • • • • • •
"Dear Trinity and Mara. Thank you for sending your colorful deck. Such a delight to see some of my favorite images, and some new ones. I like the three deck idea too and my apprentices went "Wow!". Thank you. Thank you! Green Blessings."
-Susun Weed, author of Healing Wise and Menopausal Years; the Wise Woman Way.
Susunweed.com
• • • • • • • • • • • • •
"I just ordered yet another one of your beautiful RWA! decks. I've ordered so many as gifts and gifted the decks I have intended to keep for myself twice now (I can't help it- they make such wonderful gifts and it really feels like these decks NEED to make their way far and wide into the world:) Looking forward to holding them in my hands again ad receiving their deep wisdom."
-Jennifer Popkin, Toronto Canada
• • • • • • • •
"Thank you so much for the beautiful Rainbow Warrior Awaken cards you sent me a while ago. I have been using the cards once a week and they have been very accurate so far in guiding me on my journey. I immediately felt a connection to the images and words. Having studied and read the Major Arcana cards for over ten years, I found additional meanings to the cards in your text and I now feel like I have a deeper understanding that will help me as well as the people I read for. The deck will be a lifetime companion I am sure and I will keep it in mind as a gift for friends and family when possible. Thank you again and please notify me of any future creations of yours that I might enjoy."
-Victoria Lagerstrom, Springdale, UT
• • • • • • • • • •
"I stayed awake most of last night, totally consumed with my deck. Brilliant work! I love the size and the reverse sides of all three decks. I love the eight points of the year. You are both so richly guided. I am so blessed to have this healing tool. Thank you, thank you, thank you."
-Darshana Freechild, Eugene OR

• • • • • • • •
"I just did a reading for myself with your new divination deck and found it to be the simplest and clearest to use of any deck I've ever tried. I like the three card layout ~ the three types of cards are very meaningful. I felt that I got a clear unambiguous answer to my question. Clearly you tuned in to the higher realms for your inspiration. It will be a help to a lot of people. Love and thanks."
-Sunny Schneider, Eugene OR
• • • • • • • •
"Dear Trinity and Mara. Your wonderful deck is just superb! I am so impressed with the complexity and beauty of your arrangement, words and images. I will be studying it for years to come I am sure."
-Anne Allenketner, Eugene OR