Warm greetings friend. The arrival of covid19 has changed everything as we know it.
Individually and collectively, we hold great uncertainty as to how this transition into birthing new patterns will unfold.
May we honor ALL our feelings as they arise with tender acceptance and compassion.
New Moon Visions SHOP
After 26 years in business, I have decided to slowly bring the ARTGIFT branch of New Moon Visions to a close.
This transition will be over several years. With this in mind... many of my artgifts are now offered at very low prices.
All orders receive FREE gifts of appreciation!
Private Sessions & Mini Playshops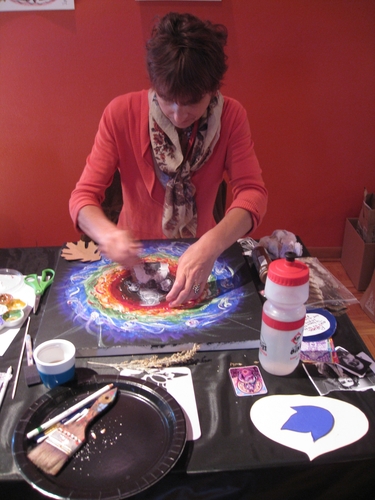 April 2020 ~ Once we are able to gather in small groups again, I will be offering sacred art sessions in my Northern California home by the sea. mara
Treat yourself to a Sacred Creative Art Experience
with Mara Berendt Friedman
Feed your soul the sweet nectar of Beauty… experience your personal 
RAINBOW WARRIOR AWAKEN!* reading and intuitive art session.
In the peaceful space of my country studio, we will dream into your question or intention. Inspired by guidance received thru the voice of the Divine Feminine, I will help you unfold a magical mixed-media work of heART that expresses and empowers your unique Truth, Wisdom and Beauty.
abSOULutely no art experience needed to create your visual prayer 
everyone enjoys the MAGIC of creating art ~ ages 8 to 108!
A lovely way to celebrate special occasions ~ Births, Birthdays, Weddings, Sacred Passages
Tuition includes all art supplies: canvas, paint, paper, beads, ribbon, feather…
Learn these art techniques: paint, mandala, dot, texture, stencil, collage…
I have recently moved into a NEW home~studio in beautiful Jasper Oregon

PRIVATE PLAYSHOP (4 hours) ~ $222
SEMI-PRIVATE PLAYSHOP (4 hours) ~ $155 each / 2 participants
If you are interested in a larger playshop (up to 5 participants), please contact me.
GIFT CERTIFICATES available ~ a SPECIAL GIFT for the precious people in your life.
For more information and to schedule, contact Mara ~ 541-844-9172 
stream@newmoonvisions.com ~ www.newmoonvisions.com
*RAINBOW WARRIOR AWAKEN! Your Journey of Guidance and Healing
created by Mara Berendt Friedman & Trinity Harris
is a deep expression of divination flowing from the Soul of the Divine Feminine.
44 color cards and accompanying guidebook feature Mara's paintings. Simple, yet potent messages and a unique method of choosing cards offer heartfelt guidance to your personal questions. The readings weave together both practical and spiritual insight to help you discover balance and understanding.
Mara has been making paintings that celebrate and honor the Feminine Aspect if Spirit for over two decades. Her company, New Moon Visions, offers artgifts featuring her work around the world. Mara is co-founder of STREAM (Soul's Together Rejoicing in Expressive Art and Magic), a sacred art school dedicated to the nurturance of true self expression and the Rainbow Way of Beauty. The artist lives and works in the lush, green countryside near Eugene, Oregon… she loves to teach and welcomes visitors.