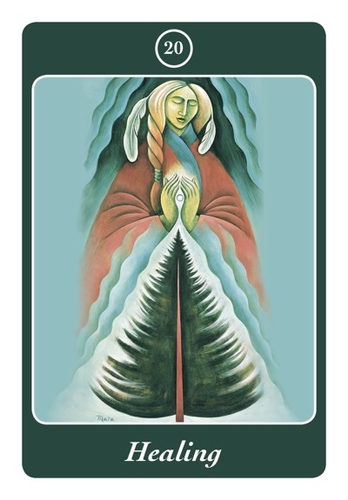 Retail Orders
dear friend

,
New Moon Visions was founded in 1994. Now 26 years later, I have decided to
slowly
bring the ARTGIFT branch of my business to a close. This transition will likely take several years. With this vision in mind, m
ost of my artgifts are now offered for
very low prices
!
I am no longer offering wholesale orders.
Most of our artgifts are made in the USA. As much as possible, we use recycled paper with soy inks for our products.
Artgift Pricing
Rainbow Warrior Awaken! Deck: $33.00
Mother Earth's Family Book: $20.00
Prints:
SALE $12.00 or
$5.00 each
(was $18)

Cards:
SALE
$1.50 each
(was $3)
NEW Prints: $27.00 each

Chakra Posters:
SALE
$5.00 each
(was $14)
Magnets: $3.00 each
All orders receive FREE GIFTS of appreciation! (cards are 'slight seconds')
orders $30 to $54.99: 6 assorted cards - 2 chakra posters - 11 bookmarks
orders $55 to $87.99: 11 assorted cards - 4 chakra posters - 22 bookmarks
orders $88 and above: 22 assorted cards - 6 chakra posters - 33 bookmarks
Terms
Our minimum order is $30
Orders must be prepaid before shipment.

We accept: Credit Cards (Visa, Mastercard & Discover) and Paypal
Shipping

This shipping info applies to US orders only.
Dear friends, Although shipping charges might seem high... they reflect my costs for USPS Priority shipping. My hope is that the low cost of my artgifts will offset shipping charges.
We only ship US POSTAL SERVICE (USPS)
Orders $30 to $54.99... $10 shipping charge
Orders $55 to $87.99... $16 shipping charge
Orders $88 and above... $21 shipping charge
Canada & International Orders
Shipping charges will be applied after you place your order
. (International shipping is very expensive these days... wish it wasn't so.)
Prior to shipping your order, we will email you the shipping charge to your country.
At this time we only ship USPS - PRIORITY FLAT RATE INTERNATIONAL.
After you hear back from us, if you decide shipping is too expensive, we will gladly refund your order payment in full.
If you decide to go forward with your order, once shipping payment is received, your order will be sent.
We are not responsible for any fees charged by a specific country's Customs Office or Postal Service.
Return Policy
At this time, we do not accept returns UNLESS you receive damaged item(s).
If there is a mistake on our part, we will cover all shipping costs.
Contact Us
Please use our Contact Form or you can reach us in these ways:
Phone: 541-844-9172
Email: mara33@newmoonvisions.com
Mailing Address: 253 Roundhouse Creek Road, Trinidad CA 95570