Warm greetings friend. The arrival of covid19 has changed everything as we know it.
Individually and collectively, we hold great uncertainty as to how this transition into birthing new patterns will unfold.
May we honor ALL our feelings as they arise with tender acceptance and compassion.
New Moon Visions SHOP
After 26 years in business, I have decided to slowly bring the ARTGIFT branch of New Moon Visions to a close.
This transition will be over several years. With this in mind... many of my artgifts are now offered at very low prices.
All orders receive FREE gifts of appreciation!
6th Third Eye Chakra ~ I See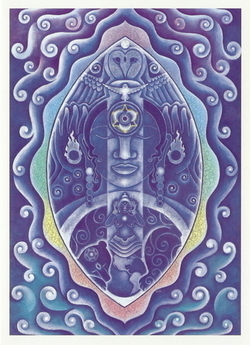 look within the silence and behold our indigo soul-light
hear the quiet wisom that illumines our inner sight
together let us dream of the peaceful world we would perceive
with our imagination we will create what we believe
poem & painting ©2002 Mara Berendt Friedman
see artgifts below...